Cybersecurity Is All a Game for Two ACES Students‬‬
Published July 21, 2014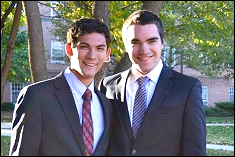 Two students in the Advanced Cybersecurity Experience for Students (ACES) program are working to revolutionize the way high school and college students look at cybersecurity by incorporating lessons into fun competition-style games. ‬‬‬‬‬
‪Franz Payer and Kevin Bock, both rising sophomores and computer science majors, have developed a competition platform aimed at generating interest in cybersecurity. They hope to make the field less intimidating for students interested in pursuing it as a major.
Payer says students need only a basic understanding of computer science principles to compete. The platform presents a diverse set of challenges that allows competitors to work on what interests them, and features two game modes: "Metropolis" for beginners and "King of the Hill" for more advanced users.
ACES, launched in Fall 2013, is the nation's first Honors living and learning program for undergraduates interested in cybersecurity. The program is closely tied to the Maryland Cybersecurity Center (MC2), one of 15 centers and labs in the university's Institute for Advanced Computer Studies (UMIACS).
Bock and Payer have won recognition for their competition program, earning second place in the Undergraduate Office of the Department of Computer Science's 2014 Fostering Innovation, Success, and Humanity (F.I.S.H.) Bowl, a technology entrepreneurship competition.
Their pitch was that current cybersecurity competitions are not made for beginners, and assume participants have some pre-existing skill sets.
The students were also recipients of ManTech Cybersecurity Scholarships, which are awarded to undergraduate students based on their academic talent and a demonstrated interest in cybersecurity.
Payer and Bock originally devised the platform after teaching cybersecurity workshops for ACES, which just finished its first year. They thought it would be a good idea to create a platform to store their learning materials. They started building it over spring break.
"A few days in, we realized we could make something much larger than we had planned," Payer says. "Both of us have competed in several cybersecurity competitions before and we could identify major flaws that made them much less effective than they could be."
"A few days in, we realized we could make something much larger than we had planned..."
As a result, they decided to license the platform and use it to run competitions. They incorporated as Cyber Skyline LLC in April, 2014.
The students are planning to hold competitions that will revolve around their platform next March. They hope to get 400 high school and college students to participate.
"Just like how Hackathons are made to encourage students of all skill levels and abilities to attend, we are aiming for the same with our competition," Payer says, adding the event will last 12 hours with students working in teams.
Payer, who is working at Tactical Network Solutions this summer, noted corporate sponsors will answer students' questions, help them set up internships, and more.
Bock, who is working for Northrop Grumman this summer, said he's grateful to the ACES program for its assistance with their project.
"ACES was very receptive and supportive of our early endeavors in this project," he says, noting ACES students tested their prototype platform in a "Capture the Flag" competition April 12. "That experience, as well as the student feedback we received after the event, was absolutely instrumental in continuing the development of the company."
Michel Cukier, associate director for education in MC2 and director of ACES, says Bock and Payer's work demonstrates the kind of talent ACES students possess.
"I expect great things from Franz and Kevin," he says. "Their platform not only presents a lot of challenges, it integrates the spirit of competition with education, which fits the mission of ACES."
-Story by Melissa Brachfeld