Summer Camps Cultivate Students' Cybersecurity Skills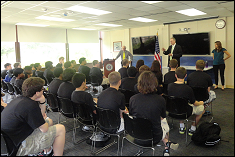 This year, the Maryland Cybersecurity Center (MC2) and the National CyberWatch Center K-12 Division hosted three summer camps for students interested in the field of cybersecurity: the Cyber Defense Training Camp, the Intermediate CyberSTEM camp, and the CyberSTEM camp. Each camp included hands-on activities designed to encourage students to gain confidence in their cybersecurity knowledge, with an emphasis on skill-building and interactive learning.
"Our camps offer students fun, engaging ways to learn the skills they need to pursue cybersecurity studies in college," said Ashlyn Vander Woude, Graduate Assistant for Education at the Maryland Cybersecurity Center. "We aim to provide students with an experience that will encourage them to follow their passions, and hopefully, to one day become leaders in the rapidly growing field of cybersecurity."
The Cyber Defense Training Camp for rising high school juniors and seniors is a seven day, residential camp offered at the University of Maryland. This year's 30 camp participants from across the country learned new skill sets in a variety of cybersecurity topics, such as cracking passwords, changing public IP addresses, and creating and analyzing malware. Students visited the National Security Agency's Cryptologic Museum and Northrup Grumman, exposing them to the many opportunities available in cybersecurity in Maryland. Additionally, students learned about the Advanced Cybersecurity Experience for Students (ACES) program, a unique cybersecurity honors program available at the University of Maryland. In all three camps, participants enjoyed interacting with ACES students who served as camp counselors, teaching assistants, and volunteers for team building activities.
Both the Intermediate CyberSTEM Camp and CyberSTEM camps introduced young women interested in the field to hands-on activities in programming, cryptography, and forensics. These two five day commuter programs are designed specifically to encourage middle and high school girls to pursue cybersecurity and Science Technology Engineering and Math (STEM) fields. At the end of the program, students showcased games and animations they created and made presentations about a variety of internet safety topics.
"Our camps offer students fun, engaging ways to learn the skills they need to pursue cybersecurity studies in college"
"We were encouraged to see the level of interest in cyber security expressed by this year's group of girls. They were engaged, enthusiastic, creative, perceptive, articulate and extremely bright," said Zulma Whiteford, two-time CyberSTEM Camp Instructor. "These are all basic qualities that are needed to become effective, world-class security engineers. The growing demands of the 21st century are calling these young ladies to bring their skills, energy and diverse background experiences into the profession where they can contribute to solutions that ultimately make a real difference in people's lives."
Camp attendees heard from various guest speakers throughout the camp who shared their stories and insights with the students. This year's guest speakers included Amy Ginther, Project NEThics Coordinator at the University of Maryland; Charalampos Papamanthou, Assistant Professor in the Department of Electrical and Computer Engineering and the University of Maryland Institute for Advanced Computer Studies; Mark Danner, a Consulting Manager with National Strategies, LLC; and various female professionals from Northrup Grumman, including Anastasia Reitz and Terra Bjorling.
The Maryland Cybersecurity Center partners with government and industry to provide educational programs to prepare the future cybersecurity workforce, and develop new, innovative technologies to defend against cybersecurity attacks.
For more information about our camps and workshops, please visit our website: www.cyber.umd.edu/education.
For questions, please contact Ashlyn Vander Woude at avwoude@umiacs.umd.edu.