Hicks Featured on Security Podcast
Published July 2, 2014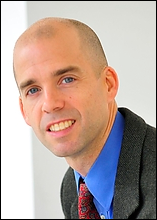 MC2 faculty member Michael Hicks was recently interviewed for the 99th monthly Silver Bullet Security Podcast. This podcast features interviews with top researchers and practitioners of cybersecurity.
Among a wide variety of topics, Mike shared thoughts about how software security can be either strengthened or weakened depending on the programming language used to write the software, discussed synergies between programming languages and cryptography research, and described the research and education goals of a programming contest he is organizing, called Build-it, Break-it, Fix-it.
The interview was conducted by Gary McGraw, CTO of Cigital, and MC2 board member.