Jan Plane Wins Women in Technology Leadership Award
Published April 8, 2014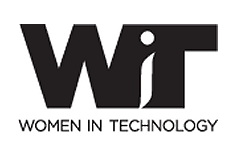 Dr. Jan Plane, Advanced Cybersecurity Experience for Students (ACES) Associate Director and Computer Science Department Senior Lecturer, is one of 14 winners of the 15th annual Women in Technology Leadership Awards. The winners were announced at the Women in Technology Leadership Awards banquet on April 3, 2014. Dr. Plane, selected under the Social Impact IT category, was recognized in front of a crowd of more than 400 attendees.
"WIT is pleased to shine a spotlight on this year's very deserving Leadership Award finalists and winners. These women proved their commitment, talent and success in the technology industry and willingness to lend a hand to those striving to follow in their footsteps," said Phyllis Kolmus, President, WIT. "It's because of these women and the amazing volunteers in our organization that WIT is able and proud to celebrate 20 years of being a resource to women to support both personal and professional achievements as well as help drive the success of our region's thriving technology community."
About Women in Technology
Women in Technology (WIT) is a not-for-profit organization with the mission of advancing women in technology—from the classroom to the boardroom—by providing advocacy, leadership development, networking, mentoring and technology education. With nearly 1000 members in the Washington, D.C.-area, WIT strives to meet its vision of being the premier organization empowering women to be architects of change in the technology industry.
Learn more: WIT Press Release