ACES Cybersecurity Honors Program Featured on Front Page of WSJ
Published April 8, 2014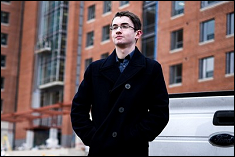 By
Douglas Belkin and Caroline Porter
The Wall Street Journal
April 7, 2014 7:56 p.m. ET
The University of Maryland has had to tighten its belt, cutting seven varsity sports teams and forcing faculty and staff to take furlough days. But in a corner of the campus, construction workers are building a dormitory specifically designed for a new academic program.
Christian Johnson plans to take cybersecurity courses at the University of Maryland that were designed in part by Northrop Grumman.
Many of the students who live there will be enrolled in a cybersecurity concentration funded in part by Northrop Grumman Corp. NOC -1.13% The defense contractor is helping to design the curriculum, providing the computers and paying part of the cost of the new dorm.
Such partnerships are springing up from the dust of the recession, as state universities seek new revenue and companies try to close a yawning skills gap in fast-changing industries.