MC2 Welcomes Undergraduates For Nine-Week Research Experience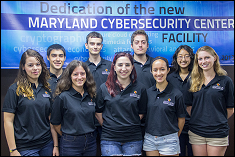 Nine undergraduates from across the country are collaborating this summer with researchers in the Maryland Cybersecurity Center (MC2), working with MC2 faculty mentors and UMD graduate students on projects ranging from studying personal data collection to examining software crashes.
The students are part of the Research Experience for Undergraduates (REU) program that is funded by the National Science Foundation, with additional support coming from the University of Maryland Institute for Advanced Computer Studies (UMIACS), the Institute for Systems Research (ISR) and the A. James Clark School of Engineering.
The projects - spread out over nine weeks - are intended to teach students how to build team skills, organize their time and conduct research, culminating with a capstone symposium where the teams will give presentations on their activities and research results.
Michel Cukier, associate director for education at MC2 and principal investigator for the program, said he hopes students will gain valuable knowledge from the six MC2 faculty and one associate computer science professor who are serving as mentors.
"The importance of the program is to really have students come in and experience the world of cybersecurity," Cukier says. "One important part, which is very unique, is that we have a very high percentage of women - who are generally underrepresented in this field - taking part in this program."
Kevin Sekniqi, a rising senior at the City College of New York, said he learned about the program while attending a conference and it seemed like a "perfect fit."
Working with MC2 faculty member Elaine Shi, Sekniqi's research project focuses on designing a secure cloud platform that is practical and achieves provable guarantees.
"I think this program presents a wonderful opportunity for young women and minority students..."
"This is a topic I've been interested in," Sekniqi says. "Everything is moving toward cloud computing, so we have to make sure the information that's stored there stays secure."
Ashley Thomas, a rising junior at Wellesley College who is working on the same research project, applied to the program hoping it would help her decide if she wants to go to graduate school.
As one of six female students in the program - placing them in the majority - Thomas says she is glad for the opportunity to collaborate with other women, including her mentor.
"I go to an all women's college, so I can see the impact that it has when you work with other women who are really driven and smart and motivated," she says. "The technology field is male-dominated and not always welcoming for women, so we really need women who will step up, take charge and be role models for younger girls."
Shi says she enjoys working with Sekniqi and Thomas, and that she is proud to participate in a program that strongly supports female students.
"I think this program presents a wonderful opportunity for young women and minority students," Shi says. "It's great for them - and all students, in general - to get involved in computer science early if they're considering it as a career."
- Story by Melissa Brachfeld