MC2, ManTech Partner on Cybersecurity Scholarships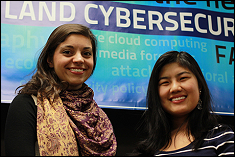 Story by Melissa Brachfeld
March 7, 2014
Contacts: Tom Ventsias 301-405-5933
COLLEGE PARK, Md. – At a time when cyber attacks are impacting people and organizations everywhere—from major retailers to government agencies to possibly your own wallet—it's increasingly important to have trained professionals on the front lines to fend off a growing cadre of cybercriminals.
Two University of Maryland undergraduates—with significant support from a leading cybersecurity corporation involved with the Maryland Cybersecurity Center (MC2)—are looking to join the ranks of IT experts pitted in this ongoing battle against hackers and cyberthieves.
Leah Xu, a sophomore computer engineering major, and Margaret Gratian, a junior majoring in computer science and mathematics, are each recipients of a cybersecurity scholarship provided by ManTech International Corporation, a Virginia-based company that provides cutting-edge technology and solutions to numerous federal agencies.
ManTech is one of the first corporate partners to join forces with MC2, the multidisciplinary research and education center supported by the A. James Clark School of Engineering, the College of Computer, Mathematical, and Natural Sciences and the university's Institute for Advanced Computer Studies.
"These are the types of relationships we envisioned when we launched the center in 2010," says MC2 Director Jonathan Katz. "The full cycle of innovation starts with our faculty and students interacting with the private sector, who in turn offer new knowledge and resources, with MC2 completing the circle by training the next generation of cyber professionals for industry and government."
Each student received $5,000 last fall based on their academic talent and a demonstrated interest in the cybersecurity field. Both say they are honored to be the first recipients of a ManTech Cybersecurity Scholarship, with the funding allowing them to focus less on the cost of books, tuition and lab fees, and more on achieving their academic goals.
Xu's interests in cybersecurity are focused on networking and security. Last summer, she participated in a Cybersecurity Scholars Research Experience for Undergraduates Program, which is funded by the National Science Foundation and places undergraduates on teams that include a graduate student and one or more faculty mentors.
Xu worked with Michel Cukier, associate director for education for MC2 and director of the university's Advanced Cybersecurity Experience for Students (ACES) Honors College program, and David Maimon, an assistant professor of criminology and justice who is an expert in online criminal behavior.
"These are the types of relationships we envisioned when we launched the center in 2010."
Their nine-week collaborative project, titled "Experimental Criminology in Cyberspace: How Does Warning and Surveillance Impact Attackers' Behavior?" studied whether intruders' actions changed depending on different configurations of "honeypots," which are cybertraps set to detect and analyze unauthorized use of information systems.
Xu says that more women should enter technology-related fields because of all the interesting opportunities available.
The true shame about the gender disparity in fields like cybersecurity, she says, is not that women are underrepresented, but that the industry is losing many potential cybersecurity experts that would be brilliant in the field and have a truly fulfilling career.
"It's important to leverage all of the background and talent that we have available," Xu says.
Gratian plans to go to graduate school for further cybersecurity studies and then pursue a career in the field. In addition to her current studies at Maryland, she is collaborating with the Centre for Software Reliability at the City University London to study the effectiveness of anti-virus software collaboration.
"In many ways, we as a nation are now fighting a war in cyberspace and we need as many people as possible to become a part of the effort to stop attackers," Gratian says.
Cukier says he is proud of Gratian and Xu for what they have achieved. "One of the missions of the Maryland Cybersecurity Center is to provide multidisciplinary approaches to cybersecurity and to embrace diversity," he says. "And Margaret and Leah are perfect examples of the mission we are trying to achieve. Both students are Honors students and have very strong technical and non-technical backgrounds."
ManTech has a two-year partnership with MC2, that in addition to the scholarships, engages UMD faculty and students to develop advanced cybersecurity tools for evolving technologies associated with cloud computing and other emerging trends.
The company will award a total of eight cybersecurity scholarships, with the next recipients to be announced in April.
The scholarship is restricted to rising sophomore, junior and senior undergraduates majoring in computer science or computer engineering, with a demonstrated interest in cybersecurity. Applicants must be U.S. citizens.
Students interested in applying should contact MC2 coordinator, Carolyn Flowers, for more details at cflowers@umiacs.umd.edu.