Google Cybersecurity Seminar Series to Feature Kevin Mandia and Wenke Lee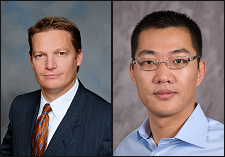 The Google and University of Maryland Cybersecurity Seminar Series will feature two leaders–one from industry, one from academia—to open the fall 2012 semester.
Kevin Mandia, Chief Executive Officer at MANDIANT, will speak on September 27th at 5:00 pm in the Kim Engineering Building Lecture Hall, Room 1110. The title of his talk will be "The State of the Hack."
Dr. Wenke Lee, Professor in the School of Computer Science at Georgia Tech, will speak on November 8th at 5:00pm in the Computer Science Instructional Center (CSIC) Room 1115. Dr. Lee's talk title is forthcoming.
The events are free and open to the campus community and friends in industry, government and non-profit organizations. Registration is required.
Guests can register here for the Sept. 27 talk by Kevin Mandia.
Guests can register here for the Nov. 8 talk by Dr. Wenke Lee.
Kevin Mandia is the Chief Executive Officer of MANDIANT. Actively involved with the Information Security industry for more than 17 years, Kevin leads at MANDIANT by example, assisting attorneys, corporations, and government organizations with information security compliance, complex litigation support, computer forensics, expert testimony, network attack and penetration testing, fraud investigations, computer security incident response, and counterintelligence matters.
Kevin founded MANDIANT in 2004, to specifically bring the brightest minds in Incident Response and Computer Forensics to solve some of the most pressing Information Security threats and challenges. Mandia has co-authored Incident Response: Performing Computer Forensics (McGraw-Hill, 2003) and Incident Response: Investigating Computer Crime (McGraw-Hill, 2001). He also has served as an expert in interviews with various print and broadcast media, including NPR, CBS, CNN, NBC News, and Fox News.
In 2011, Kevin received the Ernst & Young Entrepreneur of the Year® Greater Washington Award. A respected and experienced instructor, Kevin has developed specialized classes for the Federal Bureau of Investigation, the United States Attorney's Office, United States Secret Service, United States Air Force, State Department, the Royal Canadian Mounted Police, and other government agencies.
Dr. Wenke Lee is a Professor in the School of Computer Science, College of Computing, the Georgia Institute of Technology. He received his Ph.D. in Computer Science from Columbia University in the City of New York in 1999. Prior to joining Georgia Tech, he was an Assistant Professor in the Computer Science Department at the North Carolina State University from 1999 to 2001.
Dr. Wenke Lee works in systems and network security. His current research projects are in the areas of botnet detection, malware analysis, virtual machine monitoring, and Web 2.0 security and privacy, with funding from NSF, DHS, and DoD.
Dr. Lee has published over 100 articles with more than 20 of them cited more than 100 times. In 2006, Dr. Lee co-founded Damballa, Inc., a spin-off from his lab that focuses on botnet detection and mitigation.
The Google and University of Maryland Cybersecurity Seminar Series is organized by the Maryland Cybersecurity Center, a multidisciplinary initiative at the University of Maryland advancing innovative research, education, and technology development in cybersecurity. The Google seminar series features diverse speakers from industry, academia, and government, addressing a broad range of topics related to cybersecurity, including technology, policy, and economics, placing special emphasis on "the human factor" of cybersecurity. For more information, please visit www.cyber.umd.edu/seminars.