World Traveling Postdoc Finds a Home at MC2
Published March 28, 2022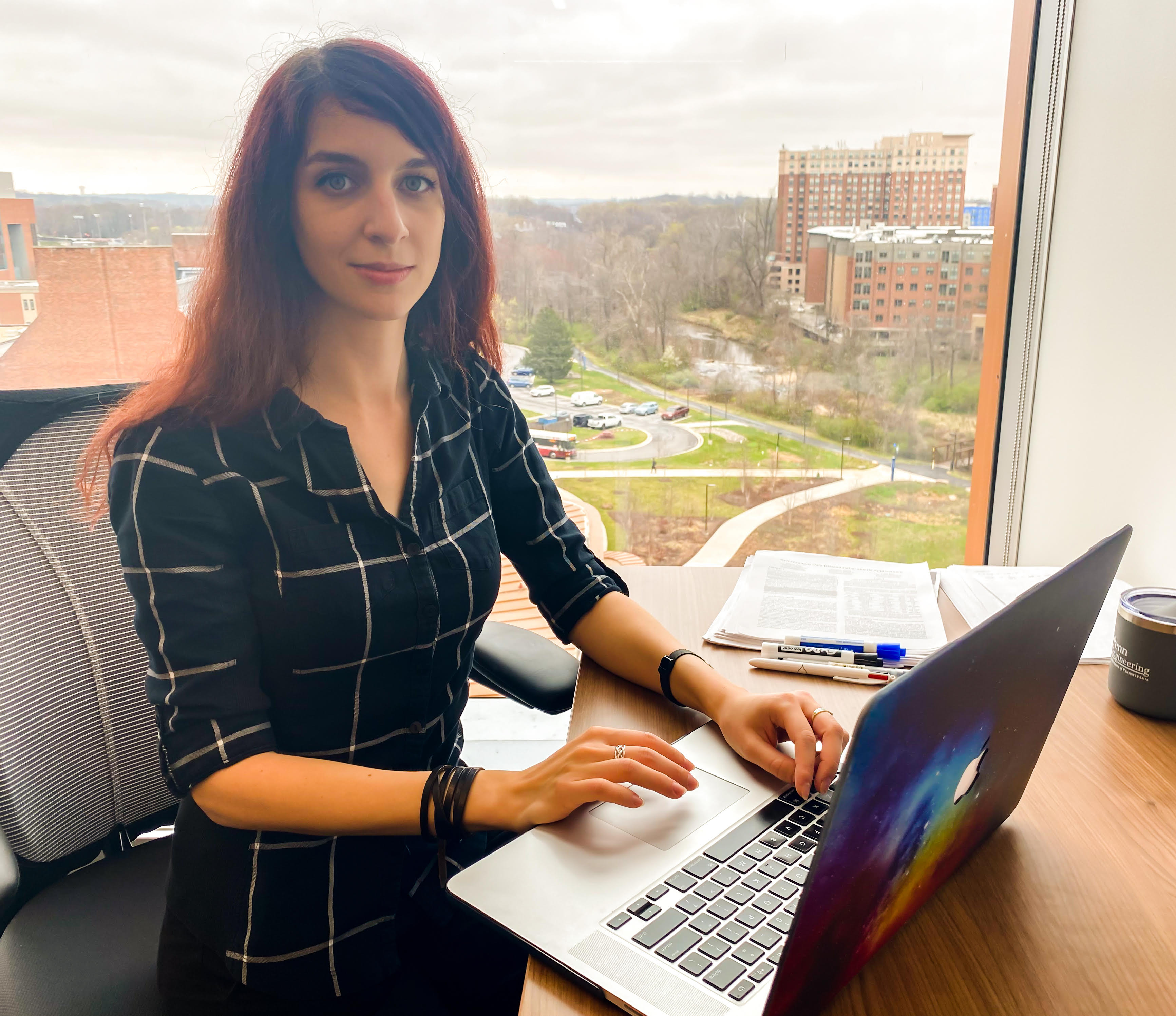 Andreea Alexandru, a first-year postdoctoral researcher in the Maryland Cybersecurity Center (MC2), is proof that global wanderlust and a budding scientific career can coincide in harmony.
Originally from Bucharest, Romania, Alexandru has visited 26 countries so far, keeping a scratch map of her travels in her home office.
"Looking at places I've visited and plan to visit inspires a mental map of the goals I've achieved so far—and future goals as well," says Alexandru, who earned her doctorate in electrical and systems engineering from the University of Pennsylvania in 2021.
Her research is focused on privacy-preserving protocols with applications in cyber-physical systems and machine learning, as well as multi-party computation and distributed algorithms.
Alexandru's most recent work involves enabling the privacy and security of cyber-physical systems, which combines measurements of the systems with digital decisions to control the system's actions.
These types of systems are increasingly common in our lives, she says, in applications involving large power grids, building automation tasks and medical monitoring platforms.
"Given the importance and ubiquity of these systems—combined with their networked environment—my goal is to ensure that the decisions made at the controller are resilient to attacks, while also maintaining the privacy of the collected data," Alexandru says.
She is investigating two paradigms for achieving this task: evaluating the computations directly on data that is encrypted (using homomorphic encryption) or evaluating an encrypted function over the data (using garbled circuits).
The goal is to understand the different trade-offs in system memory, communication and computation when these solutions are deployed on low-power devices.
Alexandru is working with MC2 faculty member Jonathan Katz, a professor of computer science who works on privacy-preserving computation and is interested in exploring its application to cyber-physical systems. Alexandru's work is being done as part of a collaborative National Science Foundation grant led by Katz and professors at UT Dallas and UC Santa Cruz.
"I greatly benefit from Jonathan's extensive experience when it comes to research in cryptography, and his immediate grasp of the important points in a project," Alexandru says.
Additional topics she hopes to explore during her two-year stay at UMD include differential privacy, anonymous communication, and cryptographic verification of real-world computations.
And while the COVID-19 pandemic has put a crimp in Alexandru's travel plans—she had promised herself she would visit one new country each year—she hopes to kick-start her global travels again soon.
"It's important to maintain a global perspective in research," she says. "Sometimes, events outside your control can prevent you from achieving what you want at the moment, but goals can be adapted, new ideas can prove to be better than old ones, and 'researcher's block' always has an end if you persevere."
—Story by Melissa Brachfeld